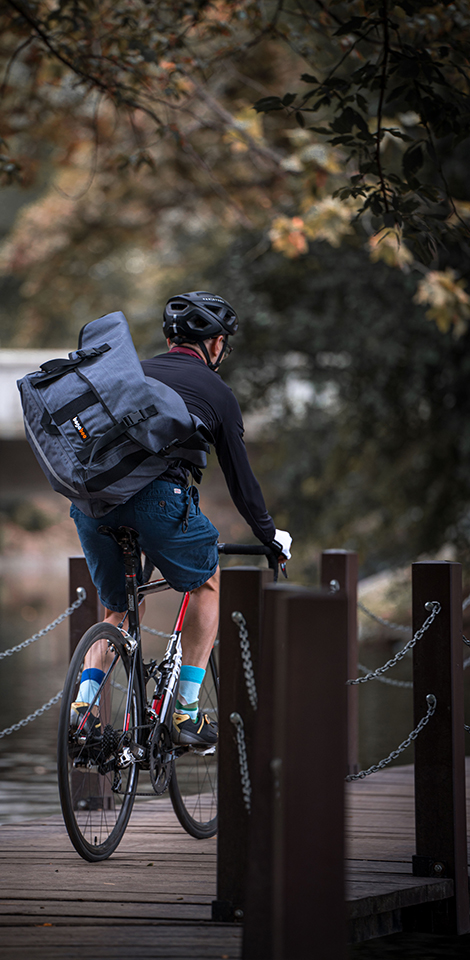 When we designed the workhorse model, we tried to cram every comfort feature into a messenger bag model we've ever seen or used. Every part of the workhorse is designed for running errands, carrying heavy, large objects, and cycling for several hours a day. It's comfortable and practical, it has a huge capacity, but when it's empty, you can collapse it to make it easier to handle.
On the back of the bag you will find a spongy back, which is also for comfortable wear, even if you have to carry very large, heavy or angular objects. The front panel of the workhorse is 6 cm longer than that of standard messenger bags. With this, you can close the bag even when it is more packed.
On the bag you will also find a rain protection layer - this is the raised part above the outer pocket. When you close the front of the bag, this layer completely blocks the path of rainwater at the corners of the bag, so water cannot seep into your bag. And if you pack your bag a lot, the rain cover will help you with this, you can actually use it as a kind of booster, thus increasing the capacity of the bag.
We sew a reflective strip to the lower part of the bag (which is best visible from the back when you are cycling), and here you will also find a small tab where you can clip the flasher. You will also find a cross strap on the bag, which connects the shoulder strap to one corner of the bag - if you fasten it and tighten it, the bag cannot cross over your shoulder or move. This strap secures the bag on your back even when both shoulder straps are on.